Description
Next ArCHdes™ design awards program: 2018.
This ArCHstore product is your entry fee for a single project design award submittal.  You must pay an entry fee for each award submittal.
VALUE: A remarkable value at only $49.  ArCH views this ArCHdes™ program (Design Excellence Selection) as a celebration of great design, Not a competition.  If you are a Licensed Architect, and you are a member of ArCH, you may participate.  If you are Not yet an ArCHmember, you must first join ArCH to participate.  When you pay for each ArCHdes™ entry, you merely receive a downloadable version PDF of the ArCHdes™ program, nothing more.  This acknowledges payment of your entry fee.  It shouldn't cost an arm and a leg to help you receive the recognition you and your firm deserve for your great design work.  Join ArCH and start becoming acknowledged as one of the best there is in this field.
PUBLIC EXPOSURE & ADVERTISING: And ArCH doesn't stop there.  Those projects of yours that receive awards will not only be announced on the ArCHdes™ website page for the year of that award (which is to remain on the ArCHwebsite for as long as the ArCHwebsite exists), a link to the year's winners will also be promoted on social media of ArCH's choosing.  To date, the ArCHFacebook post linking to the ArCHwebsite year's award winners is "boosted", to around 10,000+/- people having similar interests, which amounts to advertising your firm's winning entry at no additional cost to you.
YOUR PAYMENT DEADLINE: May 8, 2018 (which is 10 days prior to the submittal due date) (you may also pre-pay for your submittal anytime during the current year).
SUBMITTALS DUE: May 18, 2018 3PM EDT (NYC USA time)

Do not enter your submittal(s) prior to May 18, 2018 8AM for the 2018 ArCHdes™ award program.  You may PAY for your entries at anytime during the year, at least 10 days prior to the event.  Your entry fees are due by May 8, 2018 3PM EDT (NYC USA time) and are Non-refundable.
See here: to join ArCH.
---
YOU MAY ENTER AS MANY AS 5 PROJECTS/YEAR This will allow you to possibly qualify for the ArCH CRAfts™ Certified Residential Architect program in as little as 2 years, using the means of being awarded at least 10 ArCHdes™ awards.
Reproduction of current ArCHdes program notice, as of 2-15-2017:
THIS NOTICE TELLS YOU EVERYTHING YOU NEED TO KNOW TO ENTER YOUR PROJECTS IN THE ArCHdes™ AWARDS PROGRAM:  CLICK ON THE NOTICE BELOW;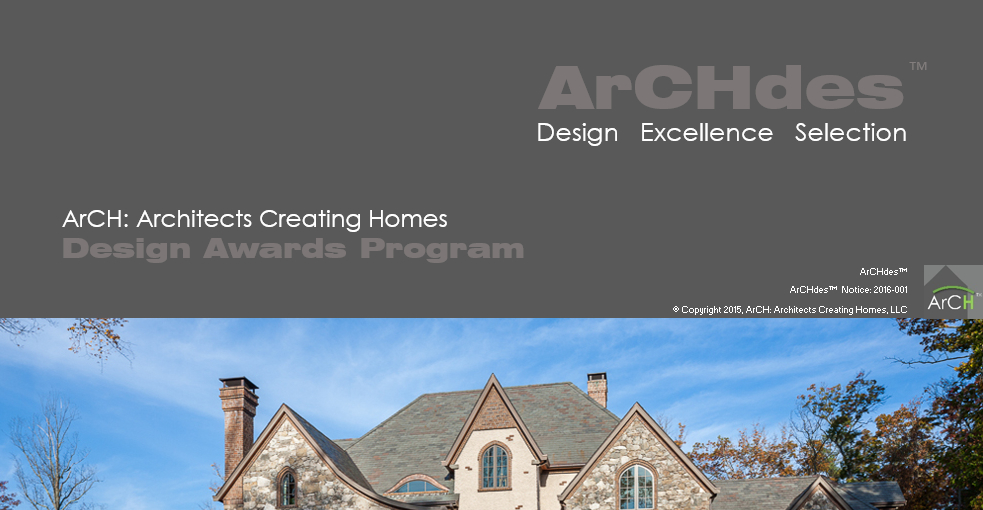 CLICK ON THE IMAGE ABOVE to view and download ArCHdes™ notice of the design awards program.  The PDF notice above will give you the information you will need to prepare your submittal and enter the program.
Additional information: ArCHdes Design Excellence Selection awards program page.
---
It is important to carefully read the notice above.  Especially note that your submittals for each of your projects is TOTALLY ELECTRONIC.  You are required to save PDF pages of your project sheets to your DropBox cloud server Public Folder, then copy and paste public links to those individual pdfs on an email to ArCH.  Your email to ArCH with those links IS YOUR ENTIRE SUBMITTAL.  Electronic.  Green.    See the notice above to understand what you need to have within each of the PDFs in your DropBox folder.  If you don't presently have DropBox, you can obtain a free account here:
Once you start using DropBox, you'll wonder how you ever got along without it.  ArCH has members that have been transmitting links to large drawings and bidding out entire projects using DropBox as their cloud server file storage, for years.  It will transform your practice.  This eliminates any congestion through the Internet during this awards program submittal process, as the submittals will only be the size of the emails, not the PDFs to which they link.
NOTICE: as long as  you provide a unique URL link to your PDF project files (on your entry submittal email to us), you really don't have to use DropBox.  DropBox is only one means.  For instance, if you loaded your project PDF files onto your own website Media Library, you could provide links directly to those URL pages.  The idea is that we don't want you sending us Huge multiple MB files, only send links.  Any method you might have to have your project files on URL links unique to each image will be acceptable.
Thank you for your cooperation in using this submittal process.  Try it!  You'll like it!
INTERVIEW OF ArCHmembers ABOUT ArCHdes™, as featured on EntreArchitect™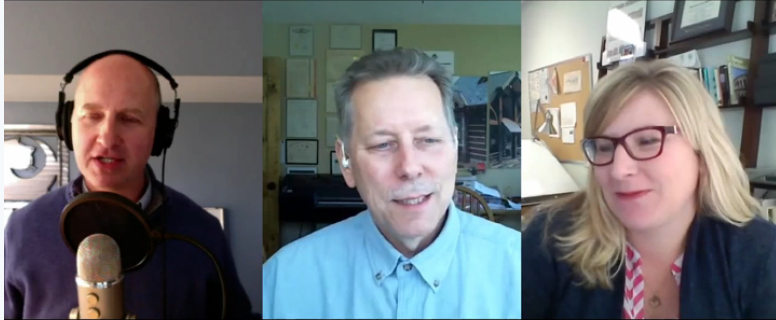 Click on image above top see and hear the ArCHdes™ interview
tags: ArCHdes  design excellence selection awards program