Description
This website page is for the ArCH-CA-SV Construction Administration Site Visit report form.
ArCH-CA-SV  Construction Administration Site Visit report form
© Copyright 2015-2023, ArCH: Architects Creating Homes, LLC.
ArCH-CA-SV
$25 ArCH Members, $45 non-members.  (join ArCH and reduce your cost).
Available now.  File download in MS Excel 2013 for 64-bit PCs running Windows 7-10.  You can enter your ArCH discount coupon code in the Shopping Cart during the ordering process to reduce your cost (if you are an ArCH member).  If you don't have the coupon code for this product, click here–> ContactArCH and ask for it (you must be a member to obtain the code).
Click on the Add To Cart button above to order, pay online & download.
This part of the ArCHsuite of products that all coordinate together.  However, this webpage will allow you to only purchase this one product.  NOTICE: the CA-SV form is the Construction Administration Site Visit form file ONLY.  To obtain ArCHsuite™ as a bundled product including many of the the other coordinated products mentioned above, click here: ArCHsuite™
The ArCH-CA-SV is the professional way to document your Construction Administration Site Visits.  The CA-SV allows you to have a professional polish to your Site Visits.  The format allows for you to easily insert your company logo and make it your own.  All you need to do is to type in the report number and the list of items in the report automatically number themselves with that report prefix number.
You can easily indicate the Project Name, your company name, address, email and your State license numbers.  You can type in the date of your site visit in the proper blank.  There is an up-front section allowing you to easily enter the Purpose of your Site Visit, the Weather (with multiple fill-in boxes), On-Site Activities in General and Conditions in General.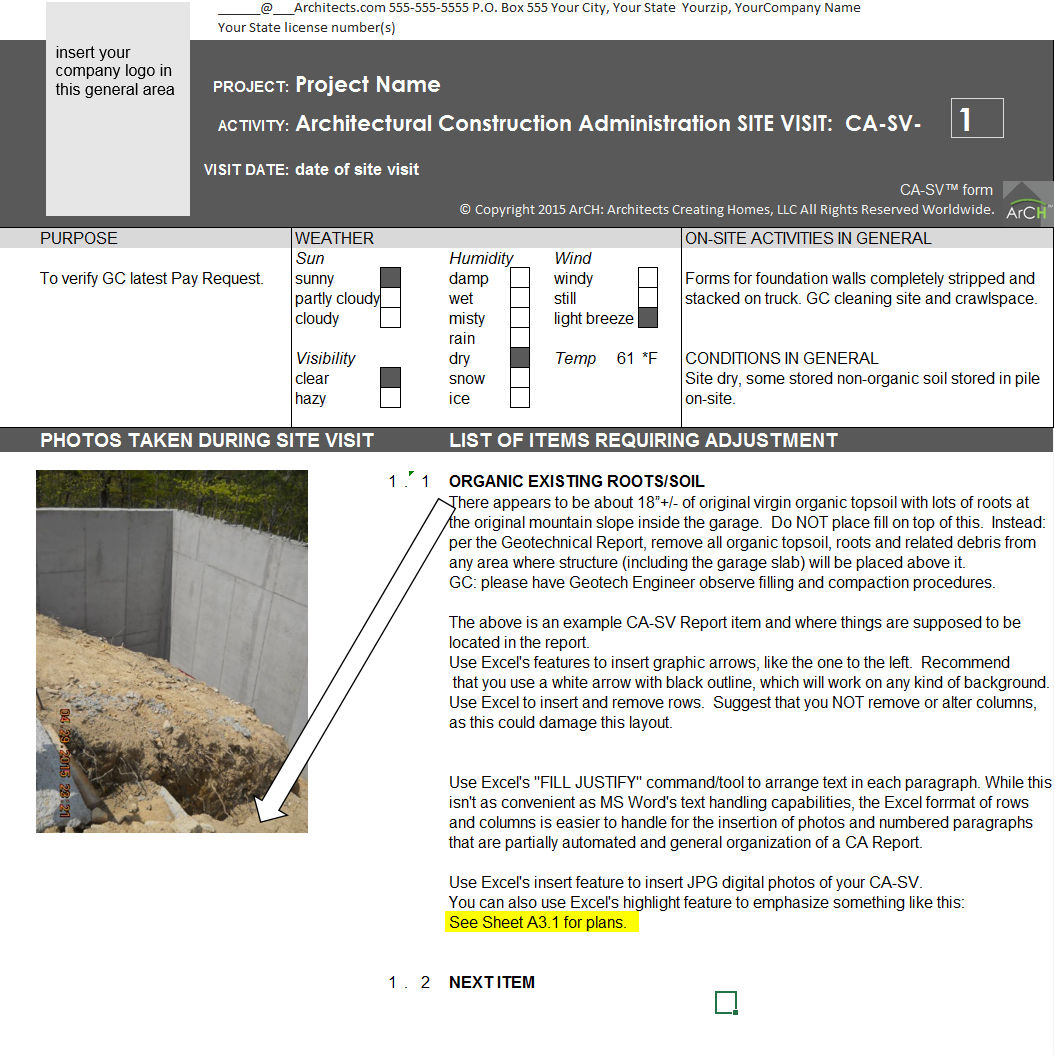 Then there are 3 main report groupings (all with a wide left columns for your digital photos):
List of Item Requiring Adjustment
Looking Ahead Near Term Items
General Comments
Each CA-SV report has your paragraph numbered with the latest visit number being the prefix of each paragraph.  This keeps your paragraph items easy to reference throughout the entire project, even weeks, months or years into the future.
See the Terms associated with all Arch purchases during check out, to which you must agree to complete the buying process.