Description
ArCHinvoice™
© Copyright 2015-2023, ArCH: Architects Creating Homes, LLC
ArCHinvoice™
$75 ArCHmembers, $150 non-members (join ArCH and reduce your cost).
Available now.
You can enter your ArCH discount coupon code in the Shopping Cart during the order process to reduce your cost (if you are an ArCHmember).  If you don't have the coupon code for this product, click here–> ContactArCH and ask for it (you must be a member to obtain the code).
NOTE: There is also a much more robust ArCHapp: ProjAccount™, that includes ArCHinvoice™. Check out ArCH ProjAccount™ to see a system that totals your invoices for each project.
SYSTEM REQUIREMENTS
This is a MS Office Excel 2013 file template for the PC running W7-W10 OS on a 64-bit computer.
You may or may not be able to import this file into your computer if you are running software and hardware different than indicated above, however ArCH only indicates proper functioning of the file in its native software & hardware stipulated above.
Apple-Mac computers and OS are Not recommended and have Not properly loaded or migrated the products offered herein (with a few possible exceptions, subject to some formatting issues).  We recommend that if you are Mac/Apple based that you do Not attempt to use these products, as ArCH cannot assist you in loading and migrating the files and cannot issue refunds once you have the electronic files.  Your choice to do otherwise is your decision.
Click on the Add To Cart button above to order, pay online & download.
Are you tired of using Word or some other type of format for your invoices that don't automatically add anything or have any built-in intelligence?
ArCHinvoice™ was created as a MS Excel file.  So, of course, it has all of Excel's rich capabilities within it.
ArCHinvoice™ automatically calculates the total invoice and subtotals for your various line items.  It also has formulas built-in that consider the Invoice Date you enter, then calculate and display the DUE DATE of the invoice, then the date late payment interest begins.
EASY TO READ GRAPHICS THAT MAKE THE AMOUNT DUE OBVIOUS
ArCHinvoice™ has quality graphics that make it very obvious how much is due and when it is due.  The format (see below) is a logical arrangement that places the amount due NEAR THE TOP of the invoice, rather than at the bottom.  After all, why make the Client hunt for the amount you want them to pay you?  Your Client is certainly welcome to review the "Invoice Breakdown / Backup / Detail" for your invoices, but may not, as that is not the focus of this format.  Rather, this format makes it obvious what is due and when and the fact that you have detailed backup may be enough for most Clients.
However, should any Client wish to review the details, they are there.
In the form of: PROFESSIONAL SERVICES FEE calculation by hour, fixed fee and any initial payment credits you may wish to indicate.  Furthermore, the format also has a detailed listing of your REIMBURSEABLE line items (per the ArCH-AOA™ (Architect-Owner Agreement), which is coordinated with the ArCHinvoice™, so that what you see on the ArCHinvoice™ for line items, is what you see on the ArCH-AOA™.  Nice.
PLACE FOR YOUR COMPANY LOGO AND CONTACT INFORMATION
There's a place for your company logo to be inserted by you, and your various addresses and other contact information.  Therefore: this becomes YOUR customized format.
EASY TO USE
Easy to use: you fill in the Dark Blue and White items the first time, then those are on auto-pilot.  From then on, you simply update the Invoice Date, Invoice #, Invoice Service/Subject and then lighter Blue items, such as service period start and end, number of hours and quantity of items to be reimbursed and you are good to go, as the red text areas automatically will calculate totals based on the date you enter.  Simple.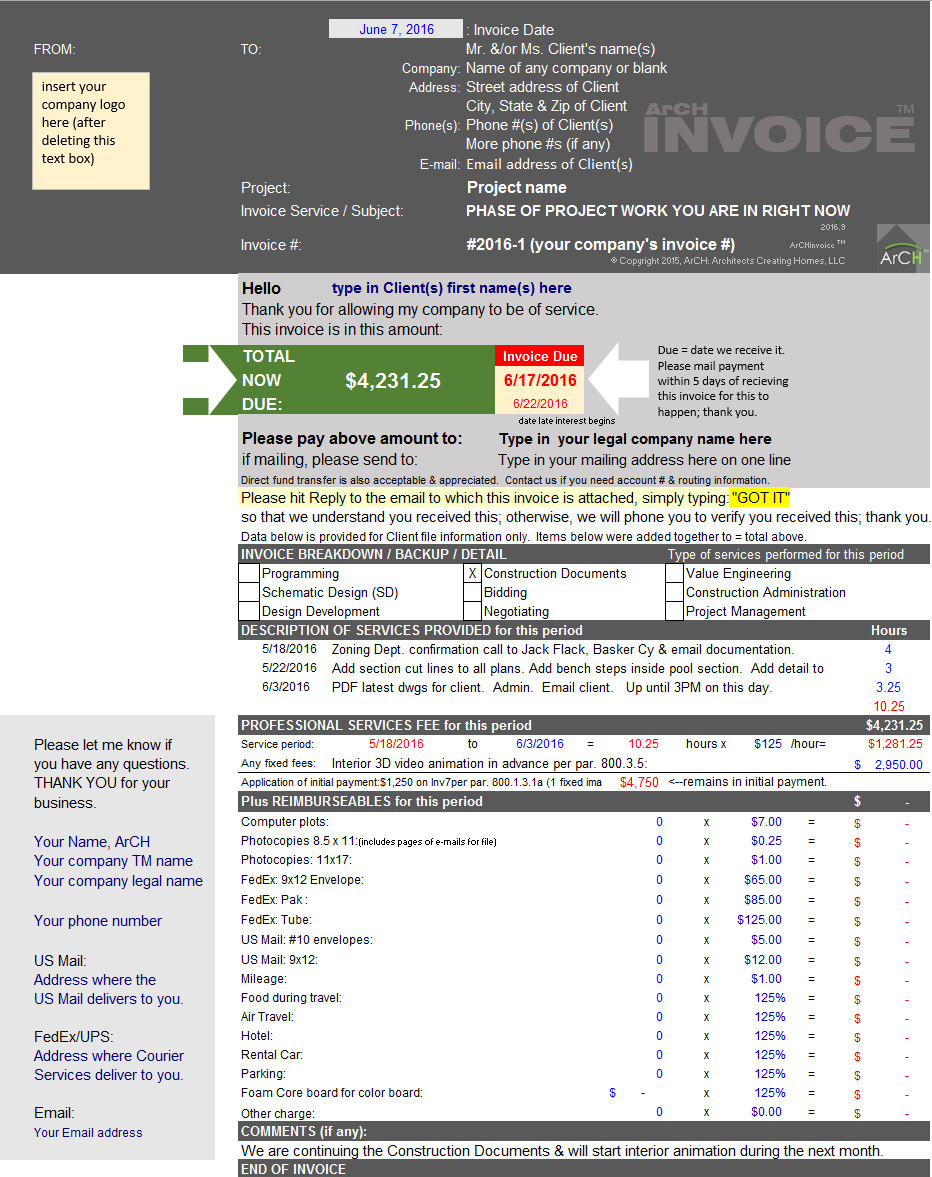 Any rates or charges you see in the above example are just that: an example and are not intended to be guidelines for any other company rates, which can and will vary widely.  Use your own company rates in your use of the ArCHinvoice™.
Example above is highly abbreviated: you can insert however many rows you wish (after all, it is a MS Excel template) so that you can have unlimited number of rows for the services you provide for a day, week, month or whatever span of time and days works for your practice.  As customizable as MS Excel.
Note: format has been recently updated to easily handle hourly services.
GET PAID FASTER
Having problems getting paid in a timely manner?  Many Architects do.  Many Architects experience 30, 45, 60, 90 and over 120 days worth of late receivables.  That's terrible.  And unnecessary.  Want to know why you have that problem?  Because your agreement with your Client probably doesn't have a late payment clause, so your Client can late-pay you with impunity.  Or you either don't enforce it, or don't mention it anywhere, ever (like you really should on your invoicing format).
Does the ArCHinvoice™ have this feature?  Yes.  Look up there on the image of the invoice to the right of the large green rectangle.  See the red and beige box entitled "Invoice Due"?  And the bold red date under that?  That's when the invoice is due (in 10 days, by the way, per the ArCH-AOA™), then look under that.  See the small date?  And the small text below that?  That small text reads: "date late interest begins".  With that kind of notice, not many of your Clients will be late-paying you anymore (if you also are using ArCH-AOA™).  You shouldn't feel sheepish about having this sort of notice on your invoices.  Why should you?  Attorneys do.  Doctors do.  Even your TV service provider does.  It is a polite mention to help customers understand that there is an increased interest amount that will come due if they don't pay promptly.  Being advised of this, most Clients will pay promptly.  And that's an added bonus of used ArCHinvoice™.   Also: take another look: there's a note to the right of the Due Date, suggesting that Clients put your check in the mail within 5 days of receipt so that YOU receive it within the 10 days.  This is actually working for ArCHmembers.  Turn the business side of your practice around for the better.  Get paid.  And faster.  ArCHinvoice™ can help.
How would you like to have your Clients be much more likely to start paying you in just 10 days?  Your first step is buying ArCHinvoice™ (using the interrelated ArCH- AOA™ (Architect-Owner Agreement) will help, also).
CLIENT CONFIRMATION FEATURE
The latest update of ArCHinvoice™ includes a note in yellow asking your Client to confirm that they received your invoice by reply email "GOT IT".  And if you don't receive that confirmation that you will be calling them.  This encourages Clients to confirm invoice receipt, which all but eliminates "Invoice?  What invoice?" weeks later (we've all had that happen).  This invoice is a work of art that helps you get paid faster.  That alone makes it worth many times its price and can help set your company on a better course for improving your receivables.
WHAT A BARGAIN
You or your staff couldn't even attempt to recreate ArCHinvoice for the modest price charged to you for this tool, as an ArCHmember.  And this is updated as new features become integrated.
NEW FEATURES AHEAD, PRESENTLY BEING DEVELOPED
There's a major event underway: ArCHinvoice™ is being expanded to include multiple invoices in a 3-D spreadsheet format (still MS Excel), all linked to a Master Invoice List, that totals your invoices for the Design and then the Bidding/Construction Administration phases, providing you with a massive, linked running total of your project's billings.  When this feature is released, the price of ArCHinvoice™ will likely increase, to cover the value inherent is such a comprehensive financial management tool for Architects' practices.
Update: it's here!  ArCH ProjAccount™ now integrates up to 39 invoices for each project and totals them in the ProjAccount™ application.  See: ArCH ProjAccount™ for more information on this powerful and easy to use system, for just a little bit more than for ArCHinvoice™.
ArCHinvoice™ is also coordinated and integrated with ArCHsuite™, the bundled files also available on the ArCHstore.  Buy ArCHsuite™ and receive ArCHinvoice in that bundle for an even lower price than if you bought the individual products separately.