Description
This is the webpage for the SurveyReq™ (Survey Requirements) form.
SurveyReq™
© Copyright 2015-23, ArCH: Architects Creating Homes, LLC
SurveyReq™
$75 ArCHmembers, $150 non-members (join ArCH and reduce your cost).
New!  Available now.
You can enter your ArCH discount coupon code in the Shopping Cart during the order process to reduce your cost (if you are an ArCHmember).  If you don't have the coupon code for this product, click here–> ContactArCH and ask for it (you must be a member to obtain the code).
SYSTEM REQUIREMENTS
This is a MS Office Excel 2013 file template for the PC running W7-W10 OS on a 64-bit computer.
You may or may not be able to import this file into your computer if you are running software and hardware different than indicated above, however ArCH only indicates proper functioning of the file in its native software & hardware stipulated above.
Apple-Mac computers and OS are Not recommended and have Not properly loaded or migrated the products offered herein (with a few possible exceptions, subject to some formatting issues).  We recommend that if you are Mac/Apple based that you do Not attempt to use these products, as ArCH cannot assist you in loading and migrating the files and cannot issue refunds once you have the electronic files.  Your choice to do otherwise is your decision.
Click on the Add To Cart button above to order, pay online & download.
Are you ready to help your Client obtain a Survey for a new project?  Not until you have ArCH-SurveyReq™.  SurveyReq™ includes a detailed list of Land Surveyor requirements all of which are almost impossible to remember without a form like this.  Specially tailored to residential situations, like septic fields and wells and other features.  Handle your business and coordination professionally, using forms like this from ArCH.  Don't forget the important items, only to require Surveyors to return at increased cost.  Communicated thoroughly the first time.  Use SurveyReq™.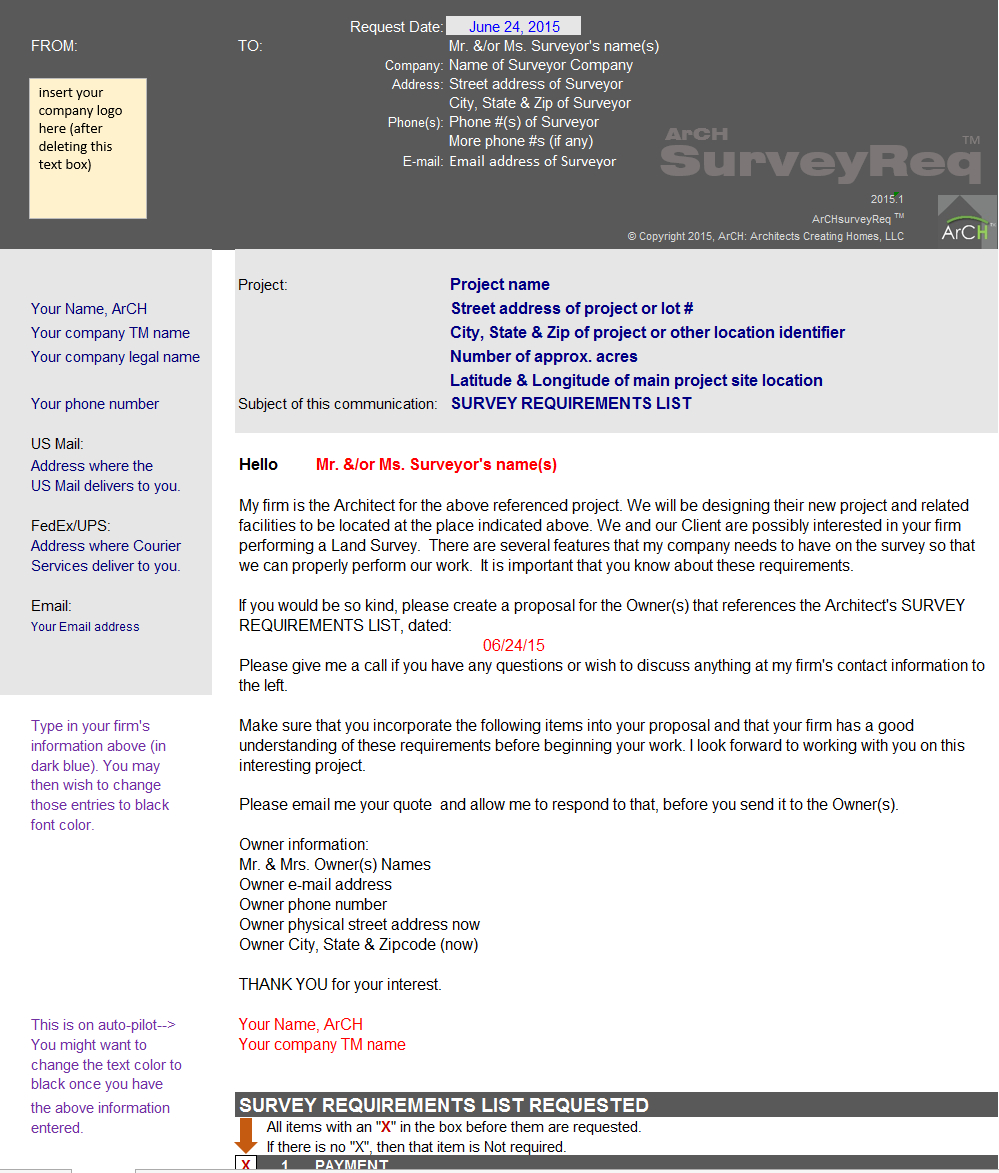 Note: the actual form is several pages long.  This is only page 1.
Ever have a Surveyor provide you with a survey in some software NOT compatible with yours?  How about a Surveyor giving you 2 or 3 separate files, with the topo contours separate from the boundary?  Or without legal easement shown?  Or bodies of water?  Or roads?  Or if you're like many Architects who prefer to do all their work in Modelspace, not having the Surveyor's title and border and notes on the file he provides you?  Sound trivial?  It's not.  Not having the survey prepared to coordinate with your firm's software and methods can be a big headache.  And that can lead to uncomfortable arguments with the Surveyor.  Don't let that happen anymore to you!  Buy ArCHsurveyReq.  That will insure that the Surveyor understands what they are going to have to do to meet your firm's needs BEFORE they start.