Description
This website page is for the ArCH-OGCA Owner General Contractor Agreement
ArCH-OGCA™ Owner General Contractor Agreement
© Copyright 2015-2023, ArCH: Architects Creating Homes, LLC
ArCH-OGCA™
$115 ArCH Members, $195 non-members (join ArCH and reduce your cost)
Newly updated!  Available now.  The Owner General Contractor Agreement form.  File download in in MS Word 2013 for W7-W10.  You can enter your ArCH discount coupon code in the Shopping Cart during the ordering process to reduce your cost (if you are a member of ArCH).  If you don't have the coupon code for this product, click here–> ContactArCH and ask for it (you must be a member to obtain the code).
Click on the Add To Cart button above to order, pay online & download.
This the partner agreement to the ArCH-AOA (Architect Owner Agreement), specially organized to work between an Owner and a General Contractor who is building a house that the Architect designed.  This document will likely be about 16 to 18 face pages or so, perhaps about 8 to 9 pages after duplexing, but could be longer with attachments that you (as an Architect) and your Client-Owner may wish to incorporate.  This agreement uses common English language.
Other forms of agreement between Owners and General Contractors do not have all of the provisions involving the Architect's interests and preferences that the ArCH-OGCA (Owner General Contractor Agreement) has.  And there are some very good lessons learned built into the ArCH-OGCA, over decades of experience on the part of Licensed Architects who design homes for their Clients.  Not to mention simple word-processing software that is easy to use.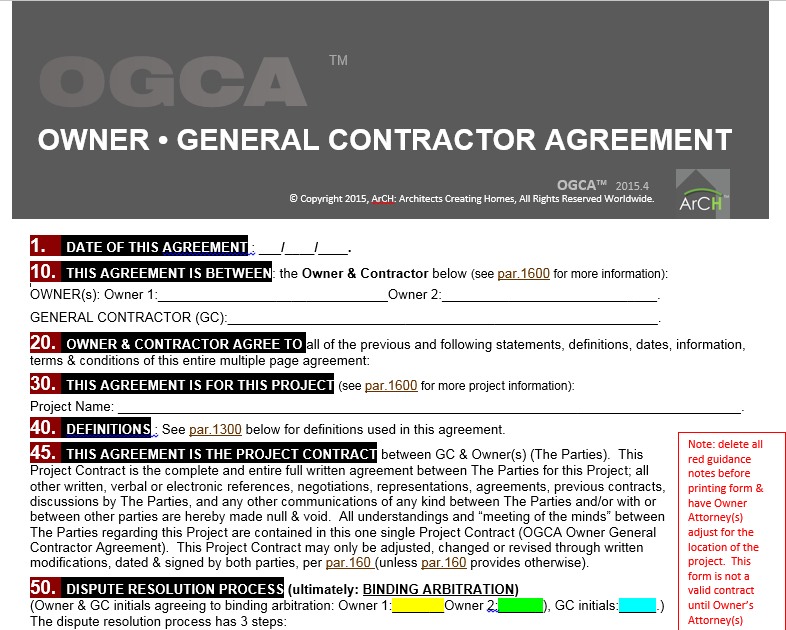 The ArCH-OGCA form is coordinated with the ArCH AOA (Architect-Owner Agreement), the ArCH "4 in 1" (Bid Form, Value Engineering, Schedule of Values, and Pay Request Form), and ArCHspec™ (ArCH's residential specifications system).  Never before has there been such an integrated suite of forms, agreements, and specifications to assist the production of architectural CDs (Construction Documents), Bidding, Construction Administration and management of the entire process.
NOTICE: the OGCA form is the Owner-General Contractor Agreement file ONLY.  To obtain ArCHsuite™ as a bundled product including many of the the other coordinated products mentioned above, click here: ArCHsuite™
This form INCLUDES the ArCHlienReleaseSuite™.  This means that the following forms are part of the ArCH-OGCA™:
Project INTERIM Construction Lien Release:
1 ArCH PICLR™
for: Main General Contractor & Related Subcontractors & Suppliers (by reference).
The GC uses this form from the 2nd pay request through the 2nd to the last pay request.
Color coded RED and numbered 1.
Project FINAL Subcontractor / Supplier Construction Lien Release:
2 ArCH PFSSLR™
for: SubContractor and/or Supplier.
GC is to require that all of his/her SubContractors and Suppliers provide this form when the GC pays them their last payment.  The GC keeps these on file, then provides all of them along with the GC's Final Pay Request, as documentation that the GC has paid all of his providers.
Color coded YELLOW and numbered 2.
Project FINAL Construction Lien Release:
3 ArCH PFCLR™
for: Main General Contractor & Related Subcontractors & Suppliers (by reference).
The GC uses this form for his/her FINAL UMBRELLA Lien Release, accompanying the Final Pay Request.
Color coded GREEN and numbered 3.
You can Click here to read more about the –> ArCHlienReleaseSuite™
Just a few of the features in the ArCH-OGCA™:
1.  No criminal labor is allowed.  You might find this laughable, but this is not prevented but most other forms of agreement.  Architects known to ArCH have personally seen thefts from their projects where the GCs (General Contractors) knowingly allowed prison work-release labor on the projects.
2.  Architect is protected from "enjoinder" phrasing that would otherwise compel them to have to travel and appear for free wherever some legal controversy occurred.
3.  No legal court process allowed.  Dispute resolution by calm discussions between the parties, ultimately with binding arbitration in the venue determined by the Architect-Owner and Owner's Attorney.
4.  Clear description of the CDs (Construction Documents) and Contract Documents.
5.  Payment Request Process clearly defined, with time periods allowed for each step.
6.  Specific Lien Release forms included as appropriate for each stage of construction.
7.  Insurance Coverages required and by whom.
8.  Change Order process.
9.  The ArCH SubstanitalComp™ form is referenced as the form of Substantial Completion.  This coordinated form is established to coordinate things for residential projects.
10.  The ArCH FinalComp™ form is referenced as the form of Final Completion.  This coordinated form is established to coordinate events for residential project.  Comment: it is interesting to note that other architectural professional organizations do not have a form of Final Completion.  ArCH has corrected this omission and includes this important and much-needed form.
And many other items, too numerous to list here, many specifically tailored to custom residential construction projects.
---
Does this form promise to be perfect in all 50 states in the USA right out of the box? No, of course not. As a matter of fact, the form's instructions require your Client (the Owner) to have at least one Attorney, in the state of the Project, review the form and make any revisions necessary for the Project location.  The law is constantly changing, and no two states have identical laws and those change with each session of each State's governing bodies. However, this agreement form has been created with the goal of creating the perfect form of agreement for the entire USA. Has this been achieved? Probably not. However, it may be closer than any other, because to our knowledge, there is no form of agreement that specifically addresses the critical issues faced by residential Architects everyday.
No merchantability or fitness of purpose is promised or guaranteed with your purchase of this form. However, you may find it more useful than other forms that are not specifically addressing residential architecture. There is no promise made that there are not flaws in the form that Must be revised by your Attorney(s) in order to avoid significant legal problems, particularly in the State of the Project. This form is Not a contract until your Client's (Owner's) Attorney(s) reviews, revises and corrects the language so that it complies with the laws for location of the Project. ArCH is not practicing law with the offer of this form. Only your (or the Owner's) Attorney(s) can legally do that. ArCH is simply offering a form for sale that has been a good starting point for an agreement, that must be completed and edited by your Client's legal counsel. Do Not proceed to use this form without legal counsel.
See other TERMS to which you must agree, during the checkout process.
Owner General Contractor Agreement  End of webpage.