Description
This is the webpage for the ArCHchart™ (architectural project process and progress application).
ArCHchart™
© Copyright 2016, ArCH: Architects Creating Homes, LLC
ArCHchart™
$85 ArCHmembers, $175 non-members (join ArCH and reduce your cost).
New!  Available now.
You can enter your ArCH discount coupon code in the Shopping Cart during the order process to reduce your cost (if you are an ArCHmember).  If you don't have the coupon code for this product, click here–> ContactArCH and ask for it (you must be a member to obtain the code).
NOTE: this application is now part of the new ArCHsuite™, which offers an even deeper discount than if you bought this application as offered on this product page.  See ArCHsuite for the best possible bundled deal.
SYSTEM REQUIREMENTS
This is a MS Office Excel 2013 file template for the PC running W7-W10 OS on a 64-bit computer.
You may or may not be able to import this file into your computer if you are running software and hardware different than indicated above, however ArCH only indicates proper functioning of the file in its native software & hardware stipulated above.
Apple-Mac computers and OS are Not recommended and have Not properly loaded or migrated the products offered herein (with a few possible exceptions, subject to some formatting issues).  We recommend that if you are Mac/Apple based that you do Not attempt to use these products, as ArCH cannot assist you in loading and migrating the files and cannot issue refunds once you have the electronic files.  Your choice to do otherwise is your decision.
Click on the Add To Cart button above to order, pay online & download.
MAIN PURPOSES OF THIS APPLICATION
To help Clients to understand:
1.  The Architectural Project Process.
2.  To see "What's Next?"
3.  Client role in the project.
4.  Where the project is right now in the process.
WHY
To help Clients feel more comfortable with the project process, allowing them to relax and enjoy it, reducing stress, being able to plan.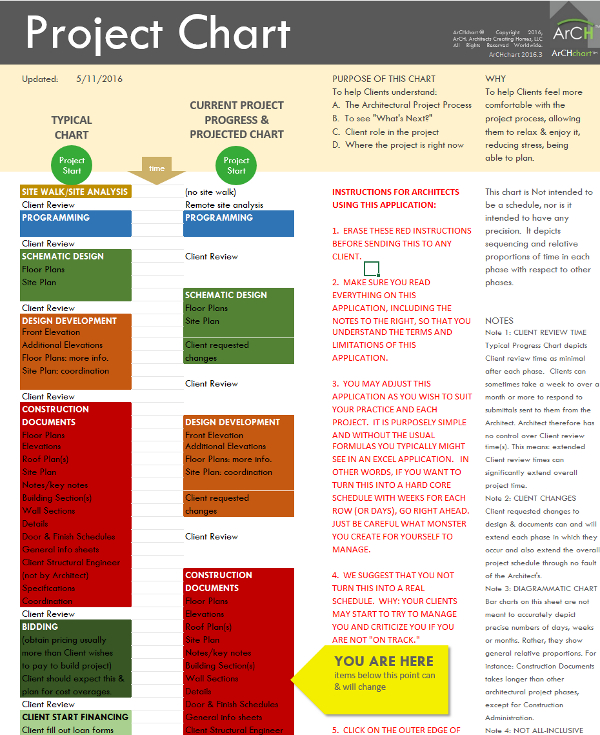 Note: this form is actually several pages long.  This is only Page 1.
WHAT THIS APPLICATION IS NOT INTENDED TO BE
A rigorous schedule.  No precision is suggested.  It depicts sequencing and relative proportions of time in each phase with respect to other phases.  This is intended to be simple to use and understand.  However, if you want, you can certainly add all the formulas and formal scheduling formatting you desire: that's up to you to add, if you wish.
WHAT YOUR PRACTICE AND YOUR CLIENTS HAVE NEVER BEFORE EXPERIENCED
Imagine your Clients, for the first time, ever, actually understanding where you are at in the traditional architectural project process and why and knowing what's next.  Never had that experience before?  Typically have Clients that are confused by the architectural process and wondering why you are doing what you're doing and why they should pay you for that?
ArCHchart™ helps fix that.  It explains, in simple bar chart format, what's going on and what comes next.
SAY YOU DON'T WANT TO GET STUCK UPDATING COMPLEX SCHEDULING SOFTWARE?
You won't.  That's not what ArCHchart™ is.  It is about relative proportions and sequencing, not specific calendar days.
WANT APPLICATIONS THAT ARE EASY TO MODIFY TO SUIT YOUR OWN PRACTICE?
ArCHchart™ was created in MS Excel.  What could be easier?  Drag and drop.  Move.  Delete.  Insert.  Simple.
IMPORTANT CLIENT-CONSULTANT ITEMS INCLUDED IN ArCHchart™ 
For instance:
Client engaging the Geotechnical Engineer
Client engaging their Surveyor
Client engaging their Structural Engineer.
Certainly, the ArCH AOA™ (Architect-Owner Agreement) requires your Client's consultants to review your company's list of Survey and Geotechnical requirements and requires your Client's consultants to coordinate with your firm to your satisfaction.  If you'd prefer to run these high-liability 3rd party services through your firm, you certainly may; Architects have for decades.  However, legal counsel to ArCH and many or our members have indicated that it is far wiser to have your Clients directly engage those services with you assisting in coordination.  The ArCHchart™ is coordinated with other ArCH applications, Such as ArCH AOA™, ArCH-SurveyReq™, ArCH-GeoReq™.
By indicating these line-item Client-consultant engagement points along the ArCHchart™, hopefully your Clients will be more prepared and expecting these actions as they move through the architectural design and documentation process.  And helping to manage Client expectations is one of the main reasons ArCHchart™ was created.
HAVING TROUBLE GETTING PAID?
ArCHchart™ can help.  How?  Your Clients may simply not understand where they are in the project.  ArCHchart™ provides them with a clear view of YOU ARE HERE in the project process.  Your attaching a PDF of an updated ArCHchart™ to each of your invoices helps your Clients to understand how far along you are and if this seems reasonable.