This website page is devoted to the ArCH-AOA Architect-Owner Agreements.
ArCH-AOA-2015 Architect-Owner Agreement 2015 edition
© Copyright 2014, ArCH: Architects Creating Homes, LLC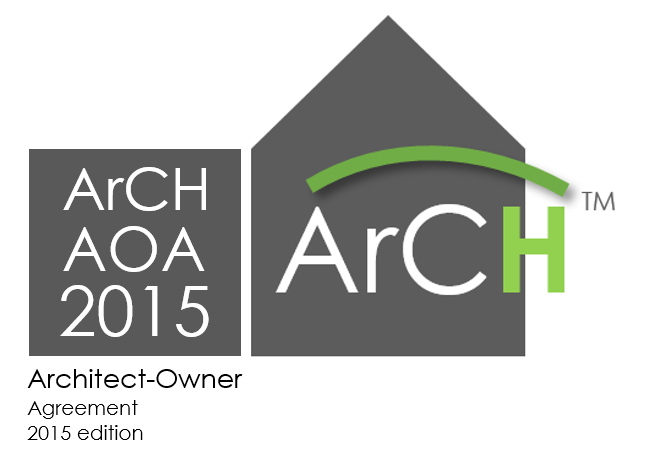 ArCH-AOA-2015
$95 ArCH Members, $175 non-members (join ArCH now and reduce your cost)
New!  Now Available!     File download is in MS Word 2013.
Click on the image above to order, pay online and download.
This is the long-awaited form of agreement between an Architect and their residential Client.  Since the beginning of time, to ArCH's knowledge, this is the only form of agreement specifically tailored between these parties, tailored to residential architectural practice.  You no longer have to scale-down a larger commercial agreement to work for your residential Clients.  After you make simple adjustments for your practice, it is expected that this AOA-2015 will be about 7 or 8 face-pages, which should end up as about 4 physical duplexed pages (printed front & rear).  It is important to have your agreement be simple and as compact as possible.  Large contracts scare people.  Understanding this, this form was created with efficiency, clarity of common language, & non-lawyer-speak to shorten clauses as much as possible, while still communicating.
It has long been a complaint of residential Architects that larger agreements prepared by other organizations intended for huge commercial projects are too imposing for Architects' residential projects.  This AOA form deftly addresses this in a compact and yet detailed manner, addressing dozens issues of substance facing all residential Architects.  No, there is no manner in which ArCH can allow you to see this form of agreement before buying it.  It is so brief and yet so detailed that you are just going to have to buy it to see it and start using it.  See the brief reviews of some of the paragraphs below for a taste of how your practice can be much more managed, allowing you to sleep better at night, knowing that your Client has a better, more realistic understanding of what you are doing and not doing and the responsibilities of both parties.
It is a true marvel of agreement language.  Multiple Attorneys have worked alongside a leading nationwide practicing residential Architect developing this form over the last 3 decades.  And now, it is available for your use.  All the lessons learned over about a third of a century of real-world practice is built into this agreement.  You will find that many of the clauses will educate your Clients as you review the agreement with them. For instance: that you, as the Architect, cannot promise that your Client's project will be bid and built by a General Contractor for the expenditure amount that your Client would prefer.  The courthouses of America are filled with the good intentions of Architects who promise such things.  This agreement says what you need to say for you, and clears the way for a clearer alignment of expectations from both parties.
Does it promise to be perfect in all 50 states in the USA right out of the box?  No, of course not.  As a matter of fact, the form's instructions require you to have at least one Attorney, in the state of your office to review the form and make any revisions necessary for your office location.  Also, you are strongly advised to have the counsel of an Attorney in the state of the project to also review and revise the agreement as required, in order to improve its language and clauses to insure compliance in both the state of your office and that of the project.  Why?  Because the law is constantly changing, and no two states have identical laws.  However, this agreement form has been created with the goal of creating the perfect form of agreement for the entire USA.  Has this been achieved?  Probably not.  However, it may be closer than any other, because to our knowledge, there is no form of agreement that specifically addresses the critical issues faced by residential Architects everyday.
THIS AGREEMENT FORM WAS CREATED BY SEASONED, LICENSED PRACTICING RESIDENTIAL ARCHITECTS AND THEIR ATTORNEYS FOR  THEIR RESIDENTIAL ARCHITECTURAL PRACTICE.
No merchantability or fitness of purpose is promised or guaranteed with your purchase of this form.  However, you may find it more useful than other forms that are not specifically addressing residential architecture.  There is no promise made that there are not flaws in the form that Must be revised by your Attorney(s) in order to avoid significant legal problems.  This form is Not a contract until your Attorney(s) review, revise and correct the language so that it complies with the laws for your architectural office location and for the location of your project. ArCH is not practicing law with the offer of this form.  Only your Attorney(s) can legally do that.  ArCH is simply offering a form for sale that has been a good starting point for an agreement, that must be completed and edited by your legal counsel.  Do Not proceed to use this form without legal counsel.
Some of the issues addressed by this agreement:
———————————————————————-
Dispute Resolution Process
This is established as binding arbitration, for a number of reasons.  You'll need to buy the form to understand why this is so critical to your practice.
Venue
Related to the issue above.  You need to be in control of this.  Think about where your projects are located and where your office is located.  This alone can be worth the price of this form x thousands, if you haven't properly covered this issue.
Recoverable Costs
Services To Be Provided
Basic Services
This spells out what phases of work you will be doing and that you define those.  You are welcome to add more language here or to keep it simple.

Additional Optional Services
Fees
Both hourly and fixed fee approaches.
Reimbursable Charges
You should be paid for your various costs: mileage, plotting, photocopies, travel and more.
Payments
Including you being paid within 10 days of the date of your electronic invoice.  This clause can help you solve that Accounts Payable problem you have, right in your agreement, from now on.
Software/Copyright
Declare the software in which the project will be created and insure that all parties will coordinate that requirement with you.  Establish your copyright and the rights that go with it.
Client Consultants
This is essential to separating your practice from the liabilities of engineering and other disciplines.  If you've ever been held accountable for the work of others, such as a Structural Engineer, learn how to open up a new chapter in your practice where you are responsible for what you do and others are responsible for what they do.  This clause was suggested by an Attorney that represents Architects, Engineers, Surveyors and others in a large SE USA geographic area.
Survey
Guide what is contained on the project Survey.
Structural Engineering
Coordinate this discipline, but don't be responsible for the acts and work of others.
Assistance with Consultants
Community Requirements
How can you be held responsible for what an HOA (HomeOwners' Association) might require aesthetically, based on HOA member personal taste?  Your current form of agreement may unintentionally be making this the case.  Learn how this form can guide you in a better direction.
Local Planning & Building Department
Limits of Liability
If you don't have this in your present agreement, your Attorney will likely have his/her hair stand on end.  This form addresses this.
Consequential Damages
Severability
Another one of those clauses that Attorneys know needs to be there, because no one Attorney knows what is precisely legal in ALL 50 states, and since the law is constantly changing, what is legal today, may not be tomorrow.  One more reason for you to heed ArCH's advice that you have at least one Attorney in your state and another in the state of the project review this form, to turn it into a legal contract, accepted where you are located and where your projects are located.
Time
An important paragraph for you to have addressed.  The form's initial language handles this in a manner that is likely to work for most architectural firms, however, you can adjust any and all of the form's language to suit your practice.
Responsibility for Construction
As the Architect, you should Not be responsible for the work of the Contractor.  This paragraph addresses that.
Risks of Project Ownership
Most Architects don't worry about this sort of thing.  You really should.  Buy the AOA and see why this could prove to be crucial, if certain events happen to the Client-Owner and you don't have this properly addressed.
Your Approvals/Changes
As in Client approvals and changes and what this means to your work and your logical, sequential project workflow.  Critical to maintaining an efficient practice.
Assignment of Our Contract to any 3rd Party
If you've ever had this happen to you, you'll understand why it is in this agreement.  This has happened to some Architects in some states and they have been compelled to complete their work and perform services for no additional payment, if your Client becomes insolvent and a lending institution takes over the project. This doesn't happen very often, but once will be enough to learn why this should be in all of your agreements.  Learn from others' mistakes.
Refunds
Buy the agreement to understand why you should never refund your service fees.
Soil Borings
The agreement explains why these can be critical to your Client and that you are not held responsible if they elect to not have Geotechnical Analysis performed.
Existing Conditions
Use of Our Documents
Miscellaneous Provisions
Such as no 3rd party beneficiaries, your yard sign, they types of insurance your Client will need, and others.
Additional Conditions & Optional Services
This portion of the agreement is quite long and addresses a host of optional services that your firm can provide and specifically indicates that you are Not providing them in your Basic Services.  This section also gives you the opportunity to earn additional income by providing valuable additional services for your Client that neither you nor he/she may have considered, if it had not been listed in the agreement as an optional choice.
This section also is intended as educational for your Client, about such matters as Bidding and how the Architect cannot be responsible for the acts of the Contractors during Bidding and during Construction Administration.
Some of the host of optional services include specific language about Record Drawings (not "As-Builts") and what your work in this regard can reasonably include, with respect to the accuracy and other issues to align the expectations of your Client.  The educational aspects of this form of agreement cannot be overstated.  For many of our residential Clients, this might be their first and last time consulting an Architect.  They do not know what to expect and this agreement form helps to inform them so that they won't have as many surprises.  Without this knowledge, there will be misunderstandings.  Avoid many of these problems by using this form of agreement.  Inform your Clients.
Exhibit
A brief description of your project, as you understand it at this point, to help the parties understand what fees and other expectations are based upon.
————————————————————————-
These have been some of the items covered in the agreement.  Buy it now to receive the actual form to help you run your practice and align your Client expectations.
INSTRUCTIONS
The form has instructions for the blanks in RED, so that you can easily understand what to do where.  There are instructions within the body of the agreement and more detailed instructions after the agreement, contained on the same file.
MS Word
This form is in 2013 Microsoft Word.  There is no tricky software fighting you as you attempt to edit the form, as you might encounter from other organizations' forms.  If you know how to use a text editing program (Word was chosen for this form, because it is believed it is the most widely used), you should be able to edit this form.
LICENSE
When you pay for this form YOU are licensed to use it as many times as you wish, with no additional payments (unlike some other organization's terms).  Know that there will be updates likely at least yearly and you will need to purchase those updated forms, if you want the updated language.  There will be future discounts for those who have previously purchased the form, within a 3 year period.  Beyond that, the discount will no longer be applied.  You may Not provide copies of this form to others, either in printed form or electronically for others to use for projects other than your one firm's projects.  ArCH owns the copyright to this form and this copyright is not being sold.
LIABILITY
By buying and using this form, you are holding ArCH: Architects Creating Homes, LLC (ArCH) and its officers, members, employees, founders and consultants harmless and you are indemnifying them against actions from you and others involved with your practice and your project(s).  You understand that this form is not a contract until you have your Attorney(s) review, edit and complete it, to conform to the laws in the state of your office and that of your project location.  You understand that this form must be revised to properly address your agreement needs.  These revisions may include the moving of certain provisions, the adding of initial and signature lines for specific paragraphs and other changes as your legal counsel determines, which could involve deletions, re-writing and other changes as they deem necessary to comply with the laws governing your practice.  ArCH is Not your legal counsel and you hereby acknowledge this.