In only a few weeks, the long-awaited RESIDENTIAL SPECIFICATIONS by ArCH will be published and made available to everyone.  Suggested MSRP: $2,750 for non-ArCH people, $1,500 for ArCH members.  Nowhere in the universe, at present, do professional residential construction specifications exist for Licensed Architects to use.  Sure, you can always start with a more expensive and gigantic commercial project specification system,  then try to pare that down to what your practice typically needs to have in its residential project specs, but what a huge chore!
ArCHspec (C) Copyright 2014, ArCH: Architects Creating Homes, LLC, All Rights Reserved Worldwide.

Why not obtain your copy of ArCHspec?  The only specifications written by Licensed Residential Architects for Licensed Residential Architects, from the only professional organization in the USA representing Licensed Architects who practice Residential Architecture.  Makes sense, doesn't it?
ArCHspec is prepared in AutoCad2015LT, set up for publishing with your sheet borders for 24″x36″ plotting.  If you use different size sheets, you can easily copy, paste and move the modular ArCHspec Divisions and Sections and paragraphs to be relocated however you want: your choice.  Once you buy ArCHspec; it's yours.  You are licensed to use it however you wish for your projects, understanding that you are responsible for what you include in your project documents.
Why is ArCHspec in AutoCad rather than a book (8-1/2″x11″) format?  If you want to do that, you may do so.  However, ArCH's membership has typically experienced that if the specifications for residential projects are not included on the same size sheets and in the drawing bound set, that Contractors, Subcontractors and material providers are much less likely to find them, if at all.  ArCH's philosophy is to keep the specs with the drawings so no Contractor can say: "What specs?"  Also, having the specifications included within a single, large AutoCad file creates a workflow where project Architects and staff can easily zoom around the project documents to coordinate the drawings and specifications, to a level never experienced before.  You'll experience better coordination between your specifications, drawings and numbered notes with the ArCHspec system.
Some ArCH members are working on copying some of the ArCHspec numbered paragraphs and Numbered Notes into AutoDesk Revit, as reference notes for your drawings.  This process is being developed and will likely not be available when ArCHspec is first released.
ArCHspec seriously considered various Division organization schemes, but ultimately determined that an old-school CSI Division 1-16, plus a Division 17 Low Voltage, plus a Division 0 Project Scope/Bid Forms handled everything nicely.  The current 48+ CSI Division sections was deemed too complex for most people  working on the job to remember.  However, most construction and design personnel seem to have not much difficulty remembering the ArCHspec Division 0-17 Divisions, mainly due to its adherence to decades of familiarity in the industry.  This also helps trades understand the numbered paragraphs used in ArCH spec and how they and other Numbered Notes relate to various areas of the project.
ArCHspec also has many cameo details built into the specs, right next to the spec text discussing the condition.  There has been wide differences of opinion about specifications being only words and drawings being mainly graphics, but today's complex projects demand an approach that is the most direct possible.  And if your project Master Details haven't yet addressed all of these conditions, you'll feel relieved to know that the details included in ArCHspec were created by Licensed Architects who have been detailing, specifying and designing homes (and large commercial projects) for over 33 years.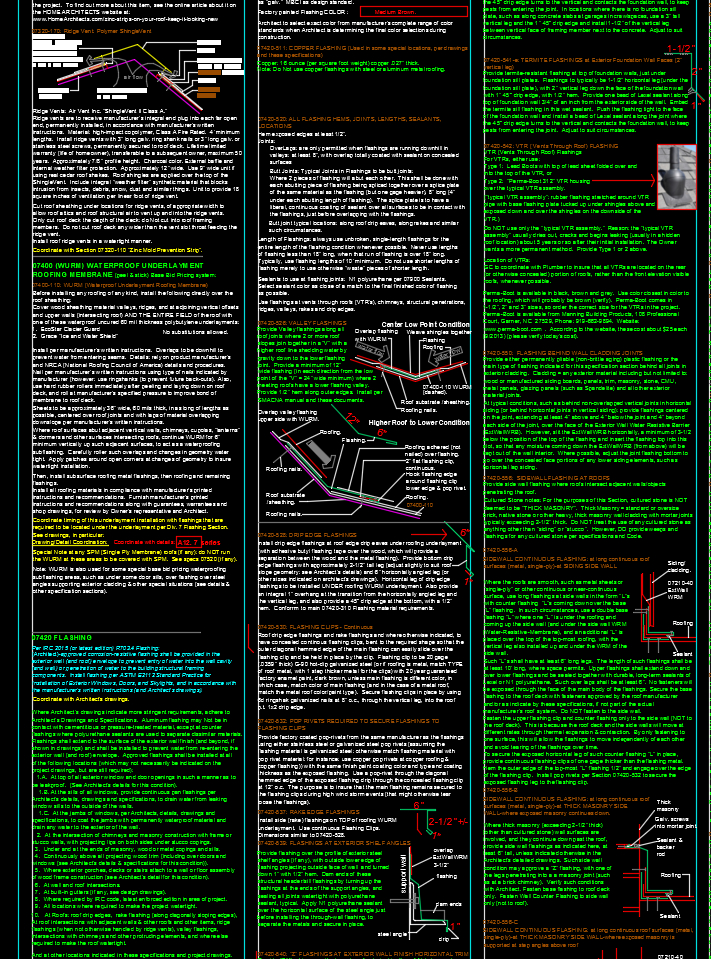 You may have noticed discussion about Numbered Notes.  It is being debated right now, whether to include the ArCHnotes in the same file as the ArCHspec.  The committee is leaning toward including the ArCHnotes.  The ArCHnotes allow you, as the Architect, to conveniently use specification paragraph numbers and other ArCHspec System organic notes (that are all very similar to the traditional CSI numbering system) right on your drawings.  This creates a never-before seen level of coordination between your Drawings, Numbered Notes and Specifications.  Tired of messy drawings with wall-to-wall text notes making it hard to read the graphics?  Get ArCHspec: the only specification system with numbered paragraphs and the ArCHnotes Numbered Notation system.  For true unification of specs and drawings.  The unified field theory (UFT) for architectural documentation.
Does this sound like something that shouldn't stop with residential architecture?  Should this also be applied to commercial architecture?  Of course.  If you run a company that creates both commercial architecture and residential projects, you may want to buy ArCHspec just to obtain the numbering system(s) to help you organize your overall practice.  Know that this numbering system began with architectural documentation on large Airport, Educational, Multi-Family, Theme Park, Industrial, Mercantile, Office, Governmental, Military and other project types, where the amount of notes on a sheet couldn't be tolerated as pure text, and where the various trades needed to understand what notes applied to each of them.  This system has been fine-tuned for custom residential projects.
So the next time you are concerned that your lack of specifications (or quality thereof) for your residential projects could result in some big problems for you, your Client, the Contractor, Subcontractors and material providers, you might want to do your practice and your projects a huge favor and get ArCHspec.  What you see is what you get: no complicated database programs to master, no tricky software.  Just text, AutoCad graphics and JPGs on an AutoCad file.  What could be simpler?  And everything is editable.  Want to change something? Go right ahead.
Soon to be on the ArCHstore, purchase available with your favorite credit card through PayPal.